Denture Solutions for La Mesa and Surrounding Areas.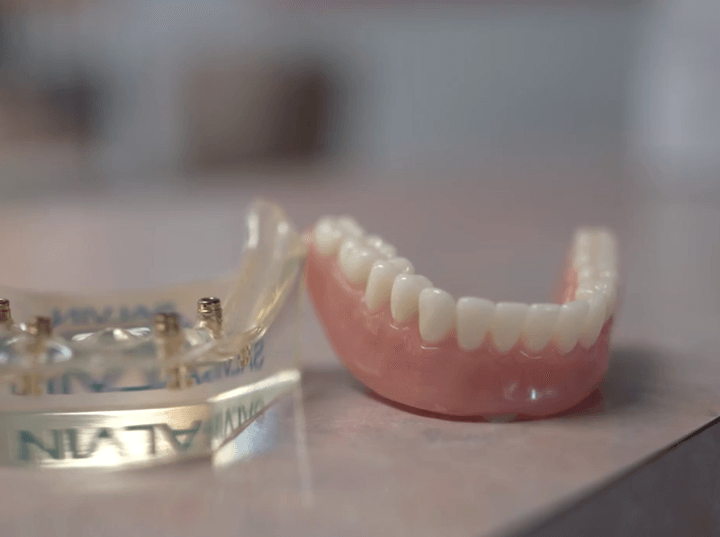 Dentures
Missing teeth can take the fight out of your bite. Your favorite foods may become difficult to eat and you may feel self conscious about your smile. Our office located in La Mesa, California offers several safe and comfortable alternatives to missing molars.
Our two most popular solutions for tooth loss are traditional and implant-supported dentures. At A Shop for Smiles – Richard J Hagstrom DDS, our professionals work hard to provide the right treatment options to give you the beautiful smile you deserve.
Traditional Dentures
Traditional dentures are a fast, non-invasive way to replace teeth and get your smile back on track. Simply put, they are custom-made removable teeth that bond to your gums wherever you have missing teeth. Whether it's your whole mouth or only sections of teeth, these are easy to replace, clean and use.
To ensure the they fit correctly, our team creates a mold from an impression of your mouth. We send this mold to a professional lab for custom fitting. Once you have your new teeth, we will teach you how to use and care for them.

Implant-Supported Dentures
Implant-supported dentures are a permanent solution to missing teeth. Like dental implants, these attach to titanium-alloy posts placed into your jaw to act as tooth roots. These tough posts last a lifetime and eliminate issues removable dentures often present. Each set is custom-made to fit your mouth and though the process requires oral surgery, they are a permanent solution to missing teeth.
At A Shop for Smiles – Richard J Hagstrom DDS, we are thrilled to offer these effective treatments. We love to see what dentures can do to help our patients get back to eating foods they love and having the beautiful smiles they deserve. If you already have dentures that need to be fixed, make sure to have us repair them for you. Our advanced dental lab can handle most repairs.
If you would like to schedule your appointment, need repair, or have any questions about our process, give us a call today at 619-465-5252. Our La Mesa office proudly serves the El Cajon and Santee areas.