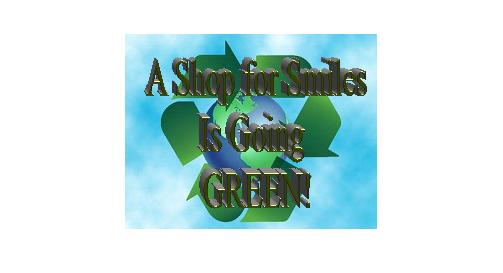 Go Green
Here at A Shop for Smiles – Richard Hagstrom, DDS, we want all of our friends, families, patients, and future patients to know that we are doing our very best to go green! We know that it is very important for each and everyone of us to do the most we can to help our environment, so here are a few things that we are doing so far to help better the world that we live in…
Recycling all the paper, plastic, cardboard, waste, etc. in our office.
Recycling printer/ ink cartridges
Switching to smaller water bottles
Turning off our water compressor switches when we are not using them to save water.
Turning off the air conditioner while we are not working on patients.
We got rid of all the paper charts in our office. (Gone paperless!)
Digital x-rays – No more film/ foil x-rays.
Transitioning to using only reusable sterilization pouches instead of the normal sterilization pouches.