TMJ Treatment for La Mesa and El Cajon, CA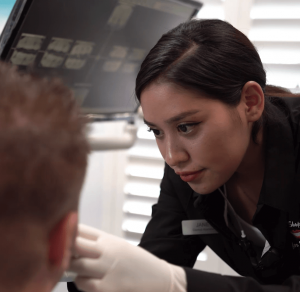 Your temporomandibular joints, or TMJ, are the joints that connect your jawbone to your skull. Overuse of these joints can result in a temporomandibular joint disorder, or TMD. TMD is a common condition that is characterized by severe chronic headaches, jaw pain, and an intermittent ringing in the ears. Many patients who suffer from a TMD don't know the cause of the condition, or that they can receive treatment from their dentist. At A Shop for Smiles – Richard Hagstrom, DDS, we strive to educate our patients to help prevent TMD and provide relief for the TMD sufferers in the La Mesa area.
The symptoms of a TMD can interfere with everyday life and cause serious discomfort. Providing comfort and pain relief is our first priority when we treat a TMD sufferer. At our office we can devise an immediate plan to treat patients after the TMD has been diagnosed.
Our TMJ Treatment
Before TMD treatment begins, Dr. Richard Hagstrom will diagnose the cause of the TMD and treat the root of the disorder. He will examine the jaw area, the bite, take X-rays and review the patient's history to make an accurate diagnosis, and recommend treatment.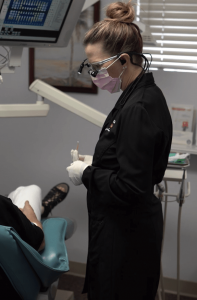 Bad Bite – If a bad bite, or misalignment, is the cause of the TMD, Dr. Hagstrom can treat the disorder by realigning the teeth or providing tooth adjustments. In most cases, surgery isn't required for this type of treatment and the realignment can stop the headaches, jaw pain, and dizziness.
Grinding – TMDs can also be caused by frequent tooth grinding. Sometimes when patients grind their teeth while they sleep, they overuse their TMJ and erode the structure of their teeth. Tooth grinding can cause severe dental problems if it isn't treated. Grinding problems are treated with a special bite guard that patients can wear at night to stop their teeth from grinding while they sleep.
Injury – Sometimes TMD can also be caused by a blow to the meniscus cartilage. In this case, your dentist will provide help and treatment for the injury to help relieve your TMD symptoms even faster.
It is important for anyone experiencing the symptoms of TMJ to visit the dentist for an exact diagnosis. If you are experiencing any TMD symptoms, come into our office today for relief. Our staff helps patients from La Mesa and El Cajon areas with TMD treatment. You can contact us at 619.465.5252 to schedule an appointment today!