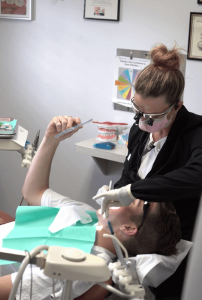 Cosmetic Dentistry
At A Shop for Smiles – Richard J Hagstrom DDS, we know that the more a patient smiles, the happier they feel. Patients who feel confident with their smiles share them with other people more often. Our team, wants our patients to love their smiles. Even patients who haven't been proud of their smile's appearance in the past can enjoy a smile that is both healthy and beautiful. At our office, we offer meaningful cosmetic dentistry treatments to our patients that build confidence, boost self esteem, and improve happiness.
Some of our services include:
Dental Veneers | Dental veneers are thin pieces of porcelain can be used to enhance or change the shape of your natural teeth. Our dental veneers can fix cracks, chips, uneven spacing, and natural tooth defects while simultaneously improving the natural appearance of your teeth. Our veneers can make your teeth look straighter and brighter without braces or teeth whitening treatments.
Teeth Whitening | Teeth whitening is one of our most requested services. We are proud to offer professional tooth bleaching to our patients in the La Mesa area. Using one of our professional kits, you can brighten the appearance of your teeth dramatically and conveniently at home.
Invisalign | For patients who want straight beautiful teeth without traditional clunky braces, we offer our Invisalign braces method. With Invisalign patients can wear special custom-made clear plastic aligners that gradually straighten teeth over time.
Dental Bonding
We are proud to offer our services to patients in the area who want to improve their appearance today. Dr. Hagstrom has over 26 years of experience and works to communicate with his patients to make sure they are getting the best possible care.
To find out more about our cosmetic dentistry services, contact us at our office today. We would be happy to answer any questions you might have, or to schedule an appointment.